Advanced Oxidation Process (AOP)
An Environmentally Sustainable Treatment of Industrial Waste Water using Advanced Oxidation Process (AOP)

Our Advanced Oxidation Process  (AOP) system is designed to treat the difficult-to-remove dissolved hydrocarbons through oxidation process, targeting the Chemical Oxygen Demand (COD) / Biochemical Oxygen Demand (BOD) parameters. There are actually many published literature on the various methods of generating hydroxyl radicals. E.g. thru' UV-light dissociation of H2O2, Ozone etc. The challenge is always on how to generate these radicals at the lowest possible energy, operating risk & cost.
Advanced Oxidation Process –A Chemical Reaction Treatment System
Our extensive research & development has delivered a set of propriety high performance, engineered advanced oxidation treatment system which are redefining industrial standards. Our system generate abundance hydroxyl radicals at relative low energy using two types of reaction treatment systems:
Why Hydroxyl Radical
The hydroxyl radical, OH·, is the neutral form of the hydroxide ion (OH–). Hydroxyl radicals are highly reactive and consequently short-lived; however, they form an important part of radical chemistry. Most notably hydroxyl radicals are produced from the decomposition of hydro-peroxides (ROOH) or, in atmospheric chemistry, by the reaction of excited atomic oxygen with water.  They are also known as nature's "Silver Bullet".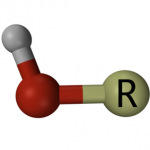 *Molecular orbital of the hydroxyl radical with unpaired electron
Oxidizing Strength of ·OH
OH oxidizing properties are comparable to Fluorine (F2) the most electro negative element in the periodic table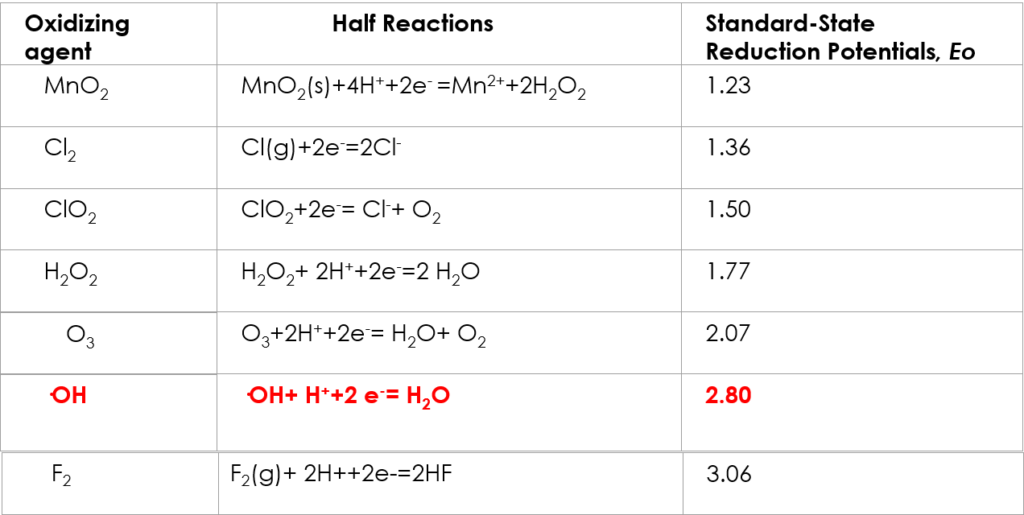 Effects of ·OH on long organic chains
The high oxidizing properties of ·OH radicals is highly effective in breaking down long organic chains. Most organic waste passing through the DHR is quickly broken up into carbon dioxide, water, and smaller organic and inorganic ions through oxidation. Most importantly, minimal sludge is produced.
Advantages of the AOP System
Advantages of using our Advanced Oxidation Process (AOP) systems includes:
Best suited for industrial waste with high contaminants; high consistency in chemical oxygen demand (COD) reduction

More versatile to stream conditions – Temperature/pH, no problem working in cold weather

Reduction of sludge by at least 50%

Less space requirement – lower infrastructure cost.

Modular units – lower cost for capacity increase

Handle wider waste contaminants – includes Surfactant, Ammonia, Phenol, Aromatics, Benzene etc.

Can be used to enhance & compliment current treatment system. E.g. for bacteria treatment   through:

Control of feed and pre-requisite conditions

Pre and post treatment of wastewater feed

Low Operating Cost – Low Voltage DC, no chemical

Credited as "Water Treatment Processes of the 21st Century" by Munter, Rein (2001). "Advanced Oxidation Processes–Current Status and Prospects.". Proceedings of the Estonian Academy of Sciences. Chemistry.
Advantages of the Novexx – AOP System
Using the Static Hydro Reactor (SHR) & Dynamic Hydro Reactor (DHR) System, the Novexx Advanced Oxidation Process (AOP) systems can be adapted to suit specific applications with full automation functions, reducing capital and operating costs.
Specially designed to treat dissolved organic contaminants.

Versatile modular design; can be added in series or parallel to handle different flowrate and concentration / composition.

Can be used on its own or to enhance existing treatment system.

Compact & small footprint (only 30 minutes retention time per reaction stage).

Typical chemical oxygen demand (COD) reduction of 35% to 80% per reaction pass.

Low operating cost

No chemical agent needed;

No / minimal sludge formation (reaction process);

Atmospheric operating condition;

Minimal operation intervention and maintenance;

Just plant air and DC voltage (48 V)
"  We have evaluated many technologies but it is the cost effective and easy-to-operate AOP (Advanced Oxidation Process) system that exceeded our expectations. With the findings from joint industrial trial report, Oiltanking Singapore has proceeded to embark on this AOP (SHR + DHR) technology for our waste water treatment starting from his year.  "
Mr Chan Kong Fatt, Senior Operations Manager of Oiltanking Singapore Limited  (July 2016) 
" Universal Terminal has explored several water treatment technologies prior to this trial using the Advanced Oxidation Process (AOP) system. This technology has proven to be more suitable than the conventional Bacteria or Reverse Osmosis (RO) option in terms of efficiency, productivity (Iow manpower and maintenance) and land space optimisation. "
Mr Evan Lim, CEO of Universal Terminal (Oct 2015)
For more information on our Advanced Oxidation Process (AOP) systems, call us at Tel:  6896 6620 or email enquiries@novexx.com.sg. 
Back to Novexx Engineering